for the English version, scroll down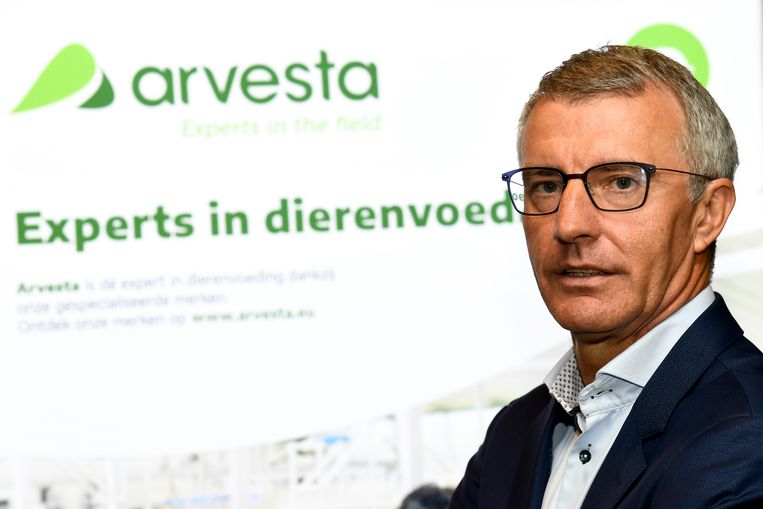 Vergis je niet, zowel het merk Aveve als de 39 andere sterke merken van Arvesta, de vroegere Aveve Groep blijven gewoon bestaan. Denk maar aan Cofabel, Dumoulin, Sanac, Hermoo en vele andere.

Arvesta zal enkel fungeren als een soort kwaliteitslabel, zodat deze merken duidelijk kunnen maken dat ze bij dezelfde sterke groep behoren. Ook de vertrouwde Aveve winkels behouden gewoon hun naam.
Die naamsverandering kadert in een veel breder transformatieplan. "Dit is een logische stap in onze evolutie", zegt CEO Eric Lauwers. "We willen centraliseren, zowel intern als in het beeld naar buiten toe." Zo zal de aankoop centraal gebeuren en komt er meer overleg tussen de experten van de verschillende merken. Dit was in het verleden niet het geval. "Vroeger waren de verschillende merken soms zelfs concurrenten van elkaar. Dat mag in de nieuwe visie niet meer gebeuren. Sterker nog: als een teeltadviseur van Sanac na een gesprek met de landbouwer merkte dat deze interesse heeft in een John Deeretractor, zal hij dit signaleren aan zijn collega bij Cofabel." De land- en tuinbouwer zal dus wel nog gewoon bij zijn vertrouwde merk kunnen aankopen, maar na verloop van tijd zal hij merken dat er meer samenwerking is tussen de verschillende Arvesta-bedrijven.
De naam Arvesta werd niet toevallig gekozen. Het is een samentrekking van de woorden 'arvus', wat Latijns is voor ploeg, 'harvest' (oogst) en 'invest', wat verwijst naar innovatie. En dat laatste staat hoog op de agenda. Zo zal Arvesta in de komende drie jaar meer dan 100 miljoen euro investeren in een overkoepelende IT-infrastructuur, het moderniseren van haar productiesites en het ontwikkelen van landbouwinnovaties. Daarnaast wil het bestaande innovaties verder ondersteunen, zoals de dronetechnologie in de zadenproefvelden, het Taintstop-voeder tegen berengeur van Dumoulin en het mobiele gotensysteem van Hortiplan. "Concreet komt het erop neer dat we de boer en tuinder nog beter en sneller van dienst willen zijn en samen met hem in rendement willen groeien", aldus de CEO. "We willen de expertise die hebben beter benutten via kruisbestuiving tussen de merken."
Dat Arvesta naar buiten komt met een nieuwe sterke naam en benadrukt dat ze willen inzetten op meer rendement heeft nog een reden: men wil toptalent aantrekken om het team te versterken. "We zijn niet op zoek naar een bepaald profiel, maar we willen jonge, enthousiaste en getalenteerde mensen aantrekken die onze toekomst helpen uitbouwen. Dat kan zowel een winkelbediende als een IT'er als een rantsoenadviseur zijn", zegt Lauwers. Het eerste bewijs van de centralisering van Arvesta zal begin volgend jaar te zien zijn op de landbouwbeurs Agriflanders in Gent. Daar zullen alle Avesta-merken, onder hun eigen naam, te vinden zijn in hal 6 van de beurs.


(bron: www.boerenbond.be)
---
(English)

Group AVEVE becomes Arvesta
Group AVEVE, the biggest full-service partner for Belgian farmers and growers, outlines its future strategy under the name Arvesta.
Remarkable carried out the brand strategy, brand development and brand protection in this project. Thierry Cattoir on the approach: "Sometimes it's complex when the name of the group and its entities are the same, for example in the Danone case. It is recommended to assign the group and its entities a separate logo or even a different name, like Unilever did. We are convinced that Arvesta will provide the right content."
The Aveve stores are automatically linked to 'garden, animal, home-baking'. Far less people are aware that Group AVEVE – from now on Arvesta – stands for a wide range of activities in agriculture and horticulture. The stores represent 'only' 15% of the group's turnover.  Animal nutrition takes up no less than 50% and agriculture & horticulture materials 35%. A good example of these findings are the iconic John Deere tractors. 
The main reason for rebranding is bundling the expertise present in the group. This way, Arvesta can provide even better solutions to farmers and growers, maximising their profitability in the process.
With regard to its new strategy, Arvesta will occupy a full hall at Agriflanders in January 2019: the largest Flemish Agriculture and horticulture fair. "Everybody in the same hall and every day a new theme", says CEO Eric Lauwers.
Discover the different facets of Arvesta on www.arvesta.eu.